HKOSCON2020 X OpenCertHub – Democratize Data Literacy with Open-source Technology
Traditionally, closed-source software has been a mainstream choice of many organizations and corporations. However, recognition of the importance and actual adoption of open-source software have increased these years, thanks to unique open-source feature such that the cost of implementing and security risk is significantly lower than closed-source software. 
Hong Kong Open Source Conference (HKOSCon) is an annual conference focusing on the development and trend of open-source solutions. Owing to the impact of the COVID-19 pandemic, the conference this year changed to webinar format, It attracted over 350 participants to learn about the latest open-source development.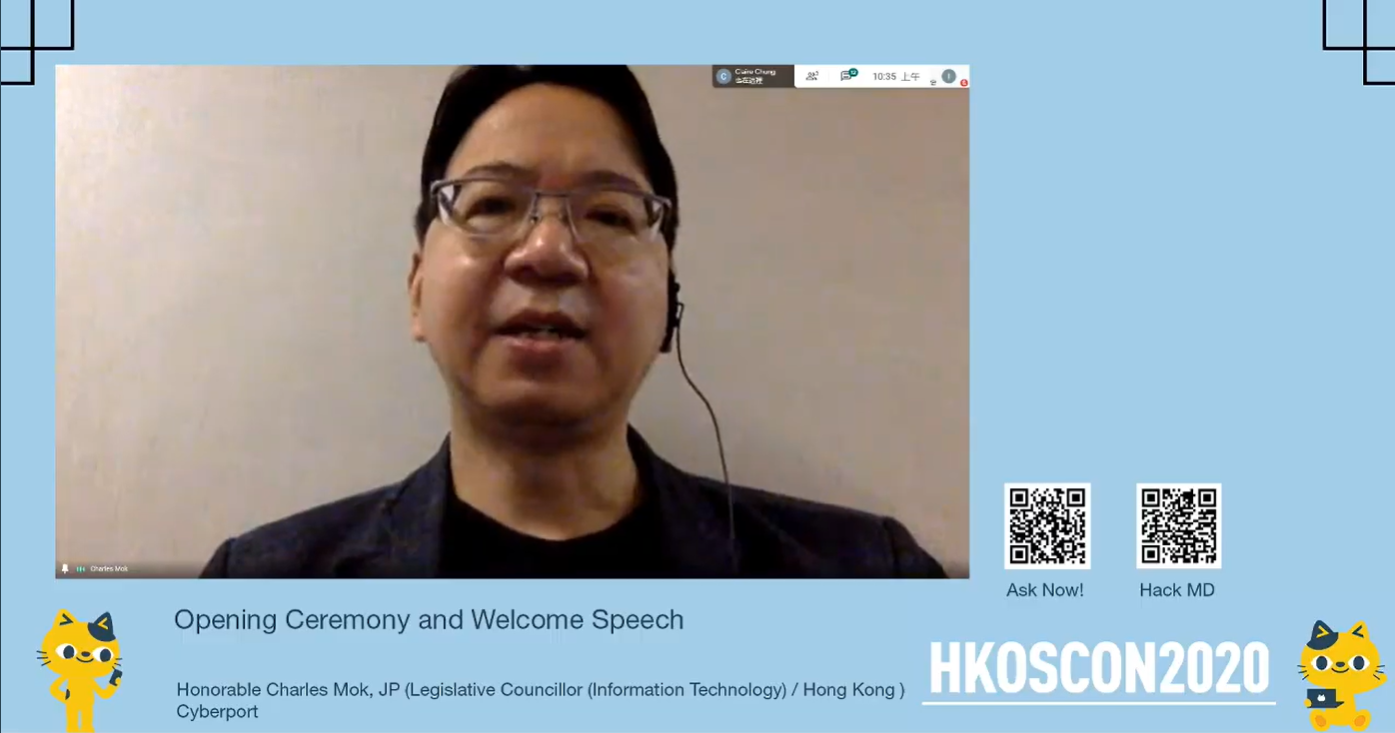 ▲Mr. Charles Mok, JP is invited as a keynote speaker of the conference
Mr. Charles Mok, JP, is a legislative councilor representing the Information Technology Functional Constituency and a member of The Professionals Guild. As a critical IT advocate in Hong Kong, Mr. Charles Mok was invited as a keynote speaker to promote open-source projects.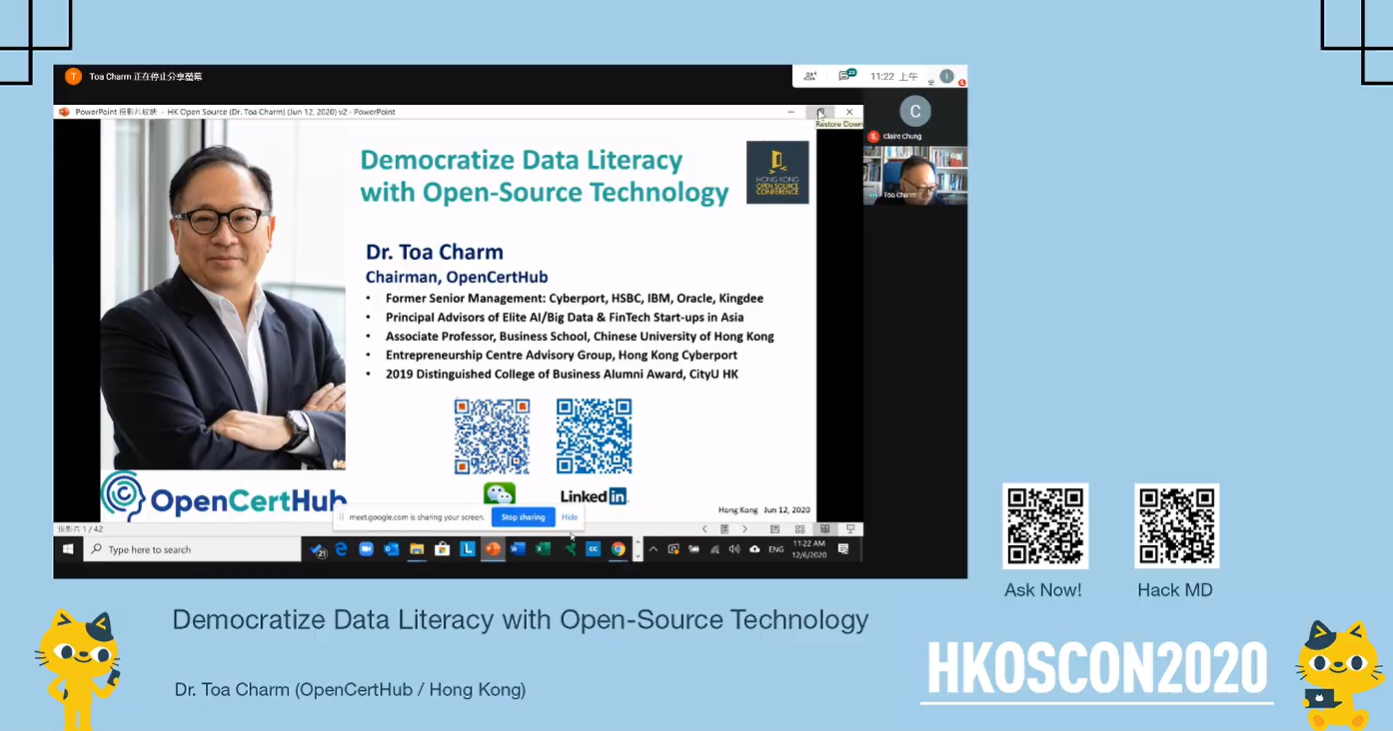 ▲Dr. Toa Charm as a keynote speaker in HKOSCON2020
As a renowned expert in Digital Transformation – the adoption of innovation and technology into traditional business, Dr. Toa Charm, Chairman of OpenCertHub, was invited as a keynote speaker of the conference, discussing the importance of Big Data in the rise of Open-source software, and benefits of Data Literacy in personal career development.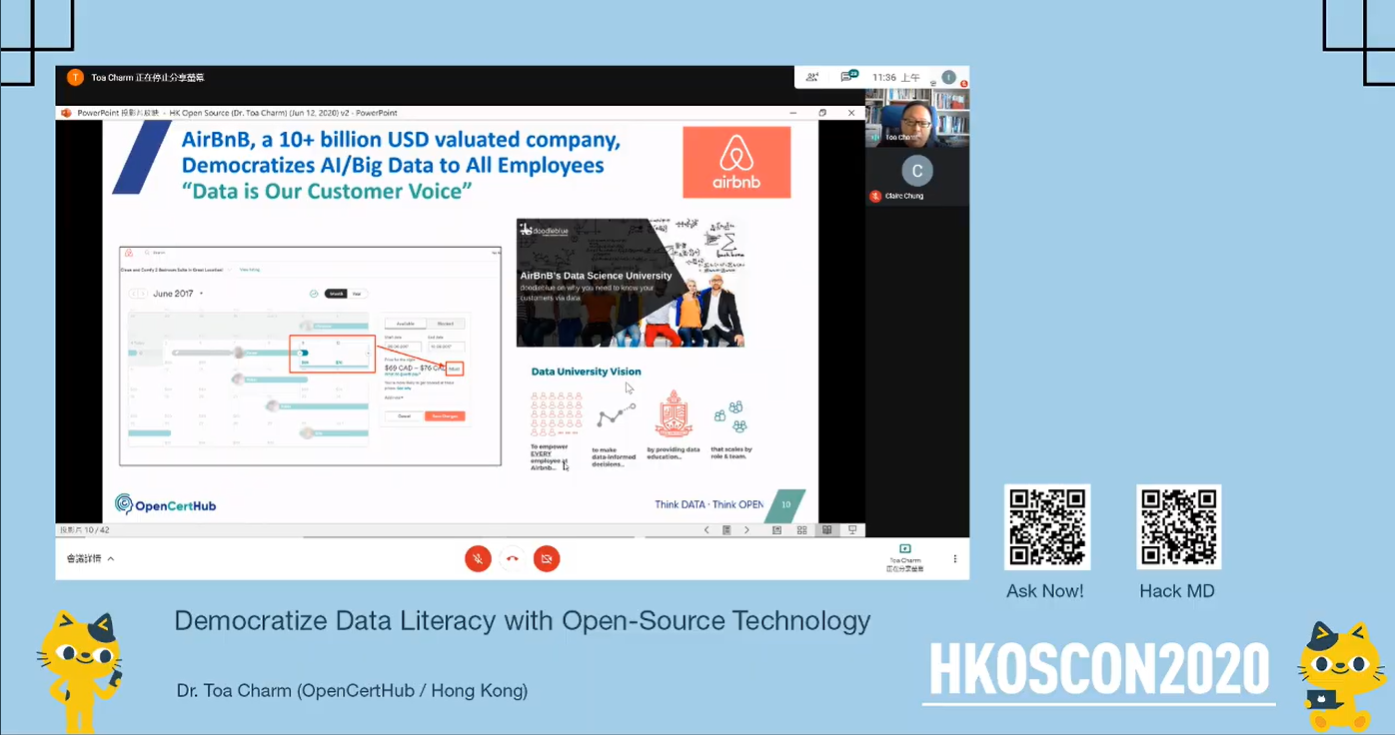 ▲Dr. Toa Charm discussed usage of open-sources software among the start-ups, including Airbnb
In his insight, Dr. Toa Charm shared how data and open-source software have become a secret recipe for successful enterprises and how data literacy becomes the essential job skills among talent. Last but not least, Dr. Toa Charm also stressed on the importance of certification and qualification of data literacy in today's world.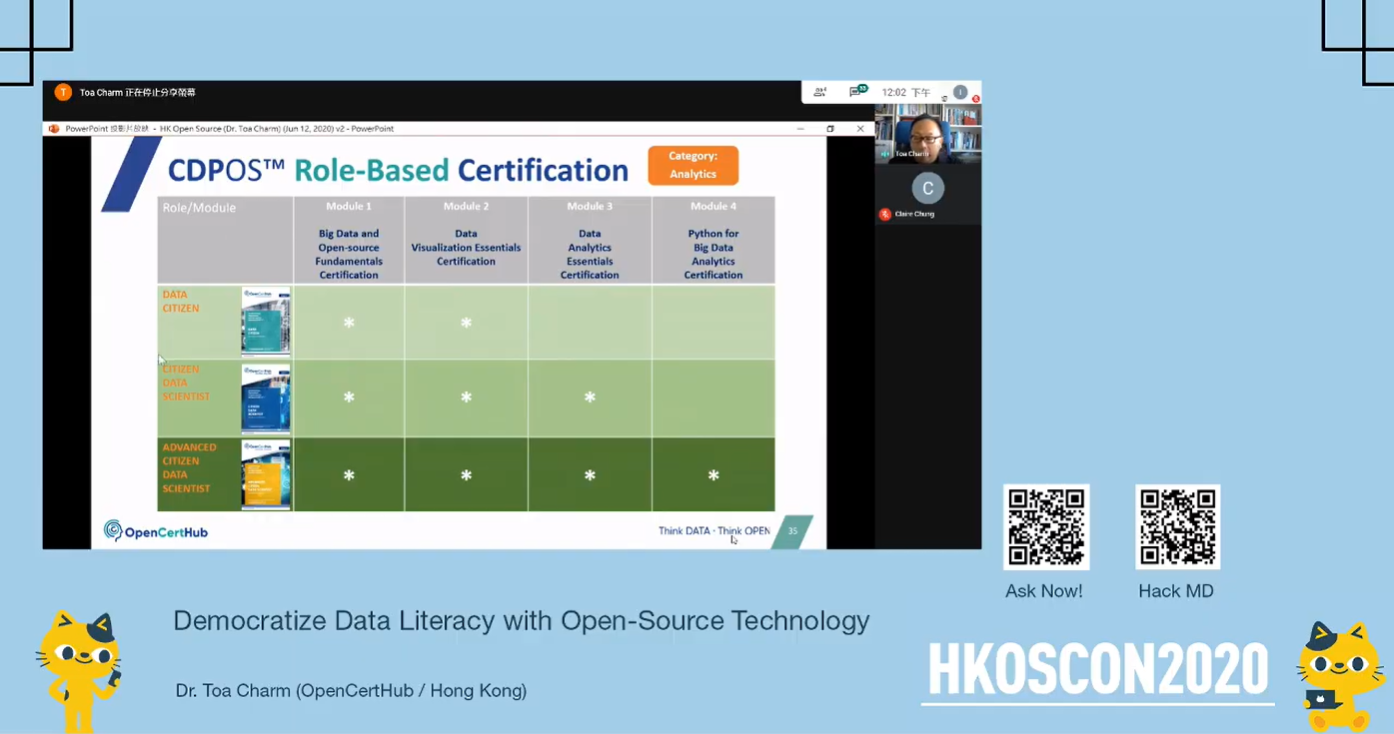 ▲Dr. Toa Charm explained the features of CDPOS™ certification scheme and how to become a certified Citizen Data Scientist
Gartner defines citizen data scientist as a person who creates or generates models that use advanced diagnostic analytics or predictive and prescriptive capabilities, but whose primary job function is outside the field of statistics and analytics. In other words, they can combine their domain knowledge and data skills to increase their job efficiency and competitiveness among the other talents.
CDPOS™ (Certified Data Professional in Open-source Software) is a certification scheme on open-source software skills offered by OpenCertHub. CDPOS™ is divided into 3 different levels. To become a CDPOS™ certified citizen data scientist, people need to pass 3 examinations to receive "Big Data and Open-source Fundamentals Certification," "Data Visualization Essentials Certification," and "Data Analytics Essential Certification." 
To know more about the insight of Dr. Toa Charm, please click here for the video playback of the sharing session!