Joining the University of Sunderland X OpenCertHub CDPOS™ Scholarship Program to lead in the digital era!
Since its launch of the Hong Kong Campus in 2007, the University of Sunderland has co-operated with partners in nearby countries to deliver online learning programs, offering a world-recognized qualification in business and data science-related disciplines.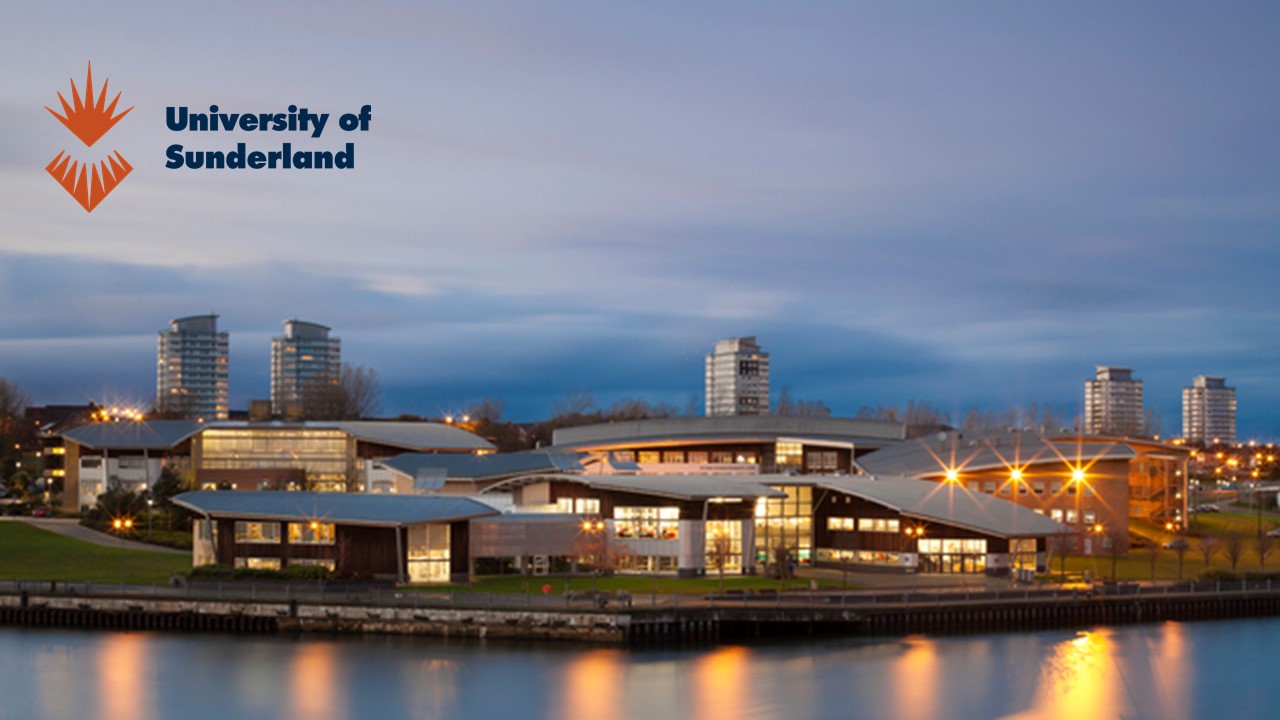 ▲ The University of Sunderland is the only UK institution that owns a campus in Hong Kong.
As Professor Yonghong Peng stated, "Every industry will be related to big data, so the demand for data talents will be climbing up in the future," it is predicted that as a result of huge demand, there is a massive shortage of data talents among the current working force.
On 19th October 2020, The University of Sunderland in Hong Kong announced its partnership with OpenCertHub to launch the CDPOS™ Scholarship Program in a webinar. During the webinar, Dr. Toa Charm, Chairman of OpenCertHub, stated, "Every business is a digital business, and thus digital transformation is the critical issue for every industry." He also analyzed that big data literacy is the "secret sauce" for successful digital transformation.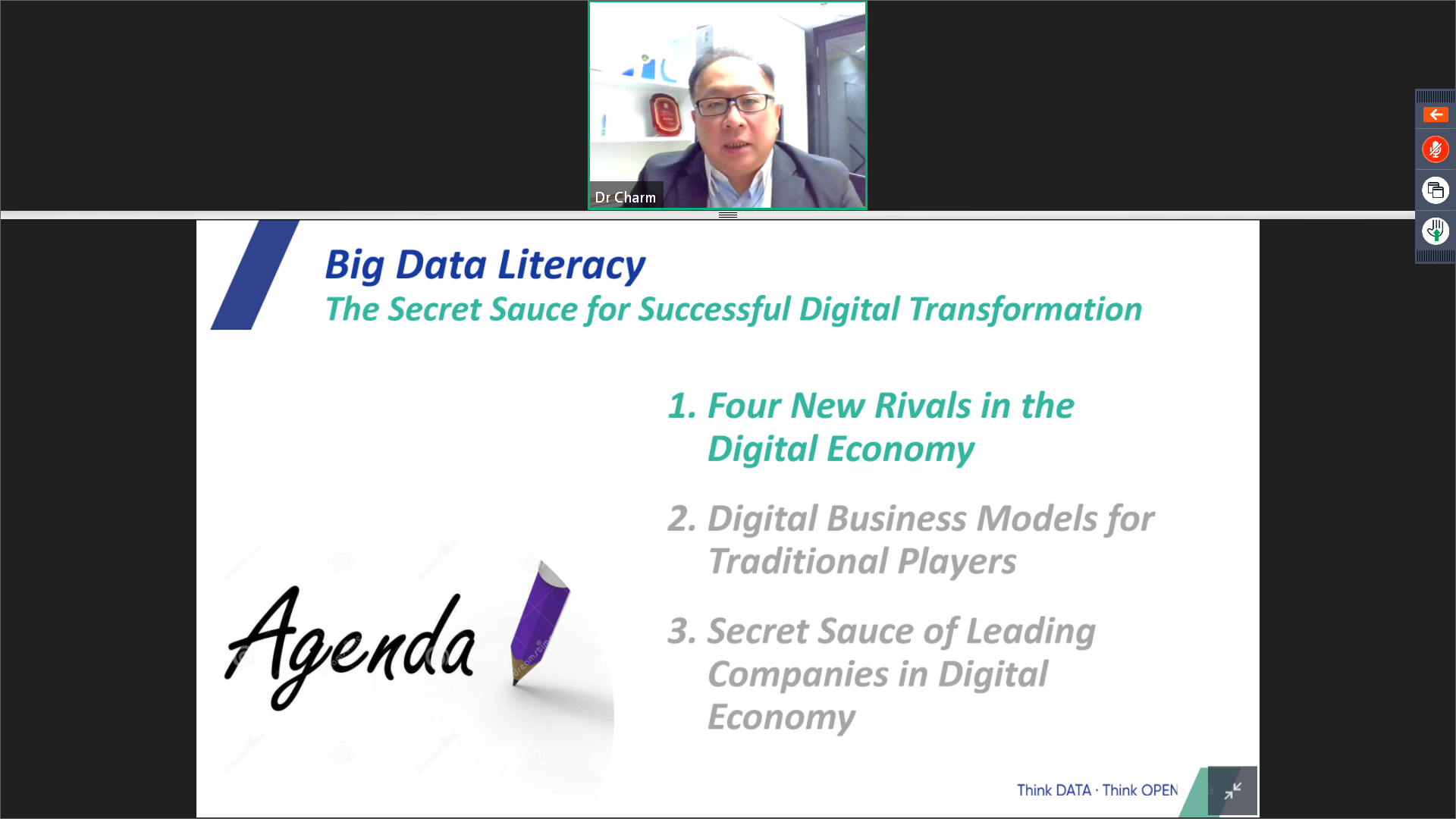 ▲ Dr. Toa Charm shared the "secret sauce" of leading companies in the digital era.
Daniel Yuen, COO of OpenCertHub, also shared the spectrum of different data talent roles in the webinar. He stated, "Enterprises need data leaders in all of their departments." Therefore, talent from any domain is suggested to equip themselves with data literacy to become the organization's data leaders.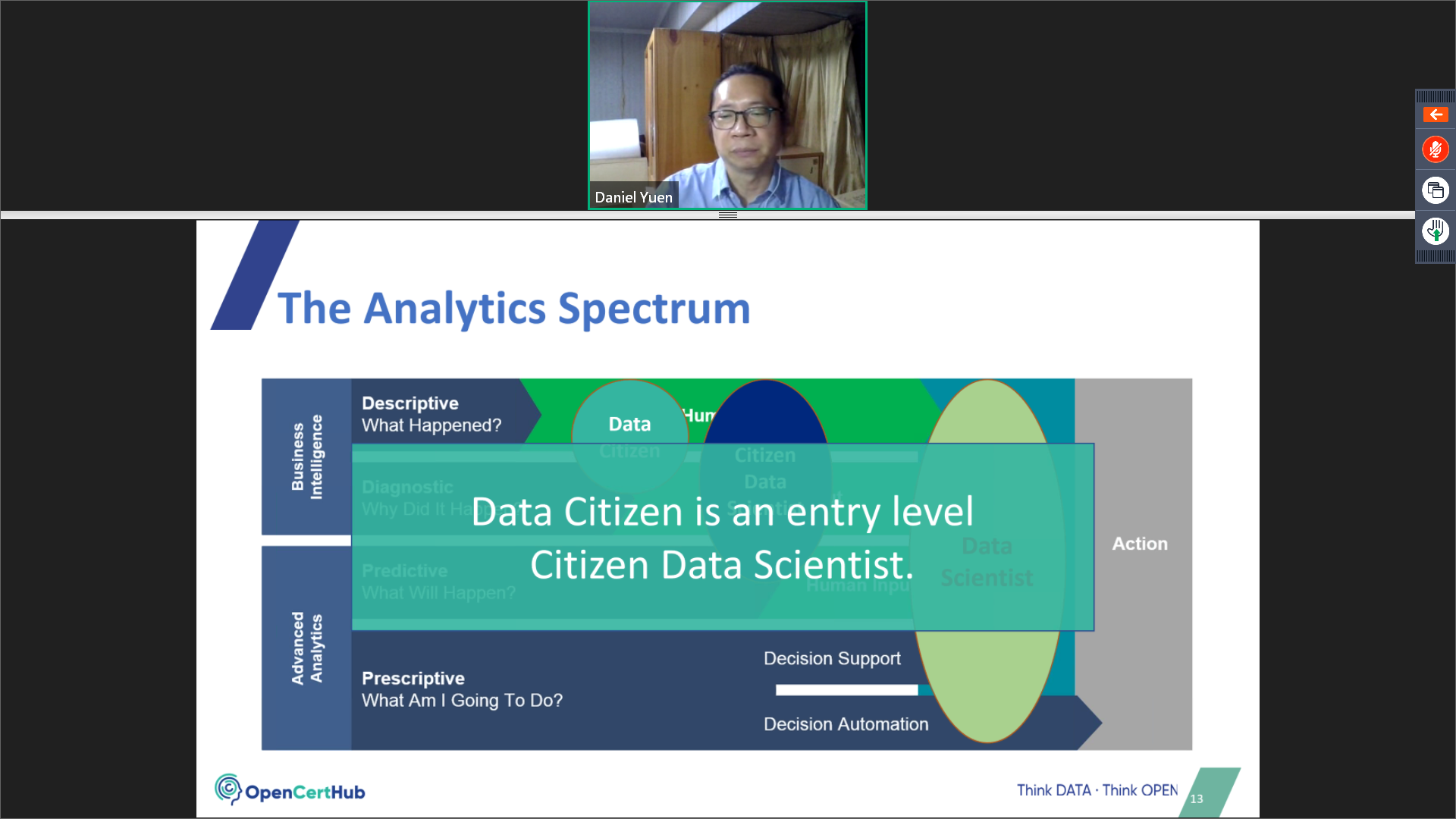 ▲ Daniel explained how the role of CDPOS™ qualification reflects the data literacy level of talents.
The CDPOS™ Scholarship Program is targeting future digital leaders in the business world. Every student who completes the MSc in Data Science at the University of Sunderland is entitled to an additional "Big Data and Open-source Fundamentals Certification" (CDPOS-M01) from OpenCertHub. Moreover, holder of any CDPOS™ Role-Based certification can enjoy scholarship up to HK$ 6,280 in applying for the MSc in Data Science at the University of Sunderland in Hong Kong starting from 1st October 2020. The scholarship amount granted is listed below:
Holder of Data Citizen Qualification – HK$2,180
Holder of Citizen Data Scientist Qualification – HK$4,230
Holder of Advanced Citizen Data Scientist Qualification – HK$6,280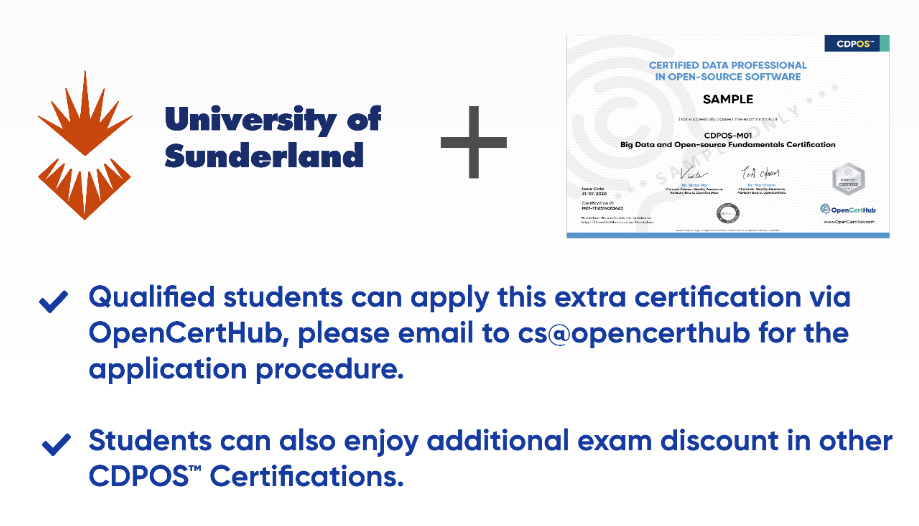 ▲ Students who have completed the MSc in Data Science at the University of Sunderland is entitled to an additional "Big Data and Open-source Fundamentals Certification" (CDPOS-M01)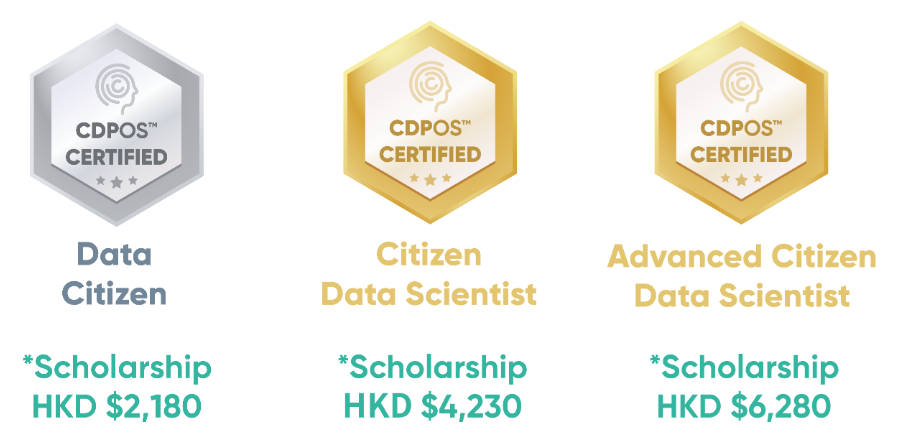 ▲ Holders of any CDPOS™ Role-Based certification can enjoy the scholarship up to HK$ 6,280
Apart from academic institutions, OpenCertHub also works with other training partners to deliver more online activities and webinars regarding the importance of data literacy and how to arm ourselves with data quotient in the digital economy. To know more about CDPOS™ Scholarship Program, please contact us by clicking here